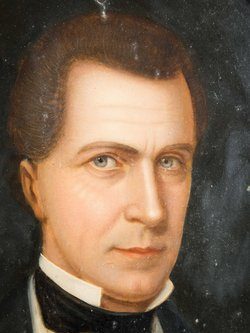 SGIG at age 46 years and 9 days
September 13, 1859 – April 1, 1866
Duration of Supreme Council Tenure: 6 years, 6 months, and 17 days
Born: September 4, 1813 – Died: April 1, 1866
Life span: 52 years, 6 months, and 28 days
Lawyer
Progress in Scottish Rite Masonry:
– 4°-32°: month, day, year, place and by whom Degrees were communicated unconfirmed.
– SGIG: elected March 28, 1859; crowned September 13, 1859; laid down his Craft tools while in Office April 1, 1866.
Offices in the Supreme Council:
– Grand Captain of the Guard: 1861.

Committees Membership:
– Allocution: 1861.

Scottish Rite Biography:

In 1846 Brother Watson was made a Mason, in Mobile, in Howard Lodge, No. 59. As a man and a Mason Illustrious Hugh Parks Watson, 33°, was the most genial disposition, kind, benevolent, devoted to the Rite; an active everyday worker; beloved by all who knew him, an ornament to society, and a true follower of the great cardinal doctrines inculcated and taught by the A&AS Rite. As a presiding officer, he was firm, dignified, affable, and courteous; as an expounder of the doctrines of Freemasonry, he was clear and lucid, and highly cultivated Mason.
Bibliography:
– Knott, Richard F. On the Life, Character, and Masonic Labors of Ill. Bro. Hugh Parks Watson, 33°. Transactions. 1868:144-145.
– Lobingier, Charles Sumner. Pike's First Decade as Grand Commander. (1859-1869.) Hugh Park Watson was crowned in September, 1859, at Chicago. The New Age, November, 1927:662.
– Pike, Albert. Ex Corde Locutiones…Washington: 1897:18.
– Lobingier, Charles Sumner. The Supreme Council, 33°… 1931:268.