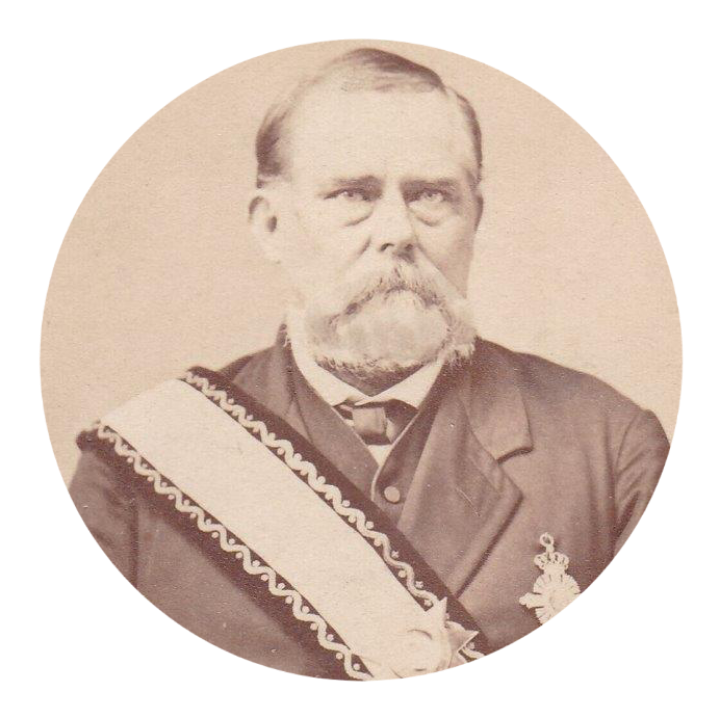 Deputy at age about 54 years
c1866 – November 22, 1873
Duration of the Supreme Council Tenure: about 6 years
Born: December 11, 1814 – Died: November 22, 1873
Life span: 58 years, 11 months, and 11 days
Lawyer
Progress in Scottish Rite Masonry:
– 4°-32°: month, day, year, place and by whom Degrees were communicated unconfirmed.
– KCCH: May 8, 1872; 33°, IGH: elected September 17, 1868; crowned May 12, 1869; Deputy: c1866 – November 22, 1873; SGIG: May 8, 1872, Inspector Batchelor nominated Ill. Bro. Richard F. Knott, 33°, as an Active Member of the Supreme Council for Alabama, the nomination to lie over until the next biennial Session, laid down his Craft tools before the next Session.
Scottish Rite Biography:

In the year 1847, Brother Knott was raised to the sublime Degree of Master Mason in Howard Lodge, No. 69. In the months of February 1858, Bro. Knott being in New Orleans, appointed for the Degrees of the Ancient and Accepted Rite, and was created a Sub. Prince of the Royal Secret, 32° Degree, by Ill. Bro. Albert Pike, at that time Grand Commander-in-Chief of the Grand Consistory of Louisiana. In the year 1866 he received the appointment of Special Deputy of the Supreme Council for the State of Alabama and was constituted a Grand Inspector General of the 33° Degree in 1869, at New Orleans – the M.P. Sov. Grand Commander, Albert Pike, presiding. He was also nominated for active membership in the Supreme Council at its last session in Louisville in 1872.
Bibliography:
– Todd, Samuel Manning. Eulogy on Ill. Bro. Richard Francis Knott, 33°. Transactions. 1874:82-84.